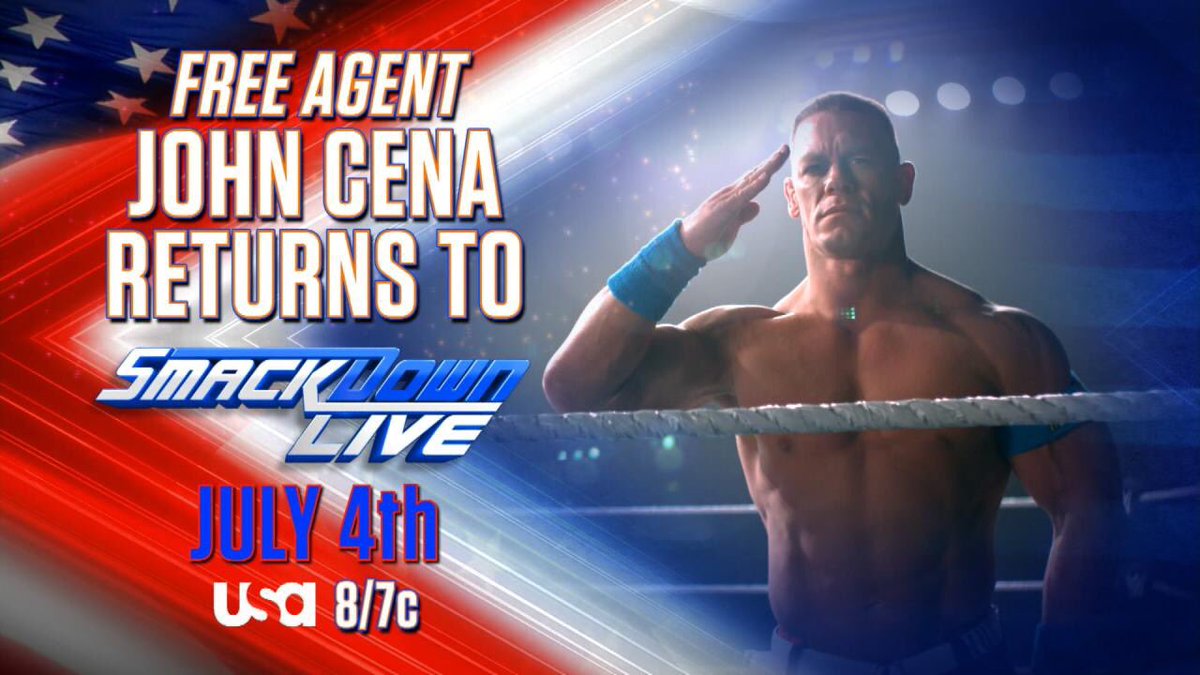 Wrestling Observer escreveu:

When John Cena returns to WWE television next month, he'll be doing so with a storyline that he's a "free agent."

A video hyping Cena's return on the July 4th episode of SmackDown aired during Raw last night, with it saying that "Free agent John Cena returns to SmackDown Live." It had been revealed previously that he would be returning on that date, though nothing about him being a free agent was mentioned then.

What that actually means quickly became a question. And people naturally wondered if it was related to the announcement that Roman Reigns will be making on Raw next week about his plans for SummerSlam.

Dave Meltzer and Bryan Alvarez briefly discussed the matter on last night's edition of Wrestling Observer Radio, and Meltzer noted that he was told that Cena won't be Reigns' opponent at SummerSlam. The idea is apparently for Cena to be able to appear on both Raw and SmackDown even if it goes against the brand split because he's one of the only draws that WWE has.


Renato

Administrador





Número de Mensagens

: 27555


Idade

: 23


Localização

: Somewhere over the rainbow


Emprego/lazer

: Estudante


Data de inscrição :

28/12/2008



É, quem viveu a época de Cena full time viveu. Quem não viveu, tá o Reigns aí pra dar uma amostra de como era hahaha

TheGuruOf

WP Superstar




Número de Mensagens

: 336


Idade

: 22


Localização

: São Paulo


Data de inscrição :

02/08/2016



John Cena tornou-se o que criticava no kayfabe. Espero que a storyline com o Reigns tenha o foco nisso.
BIG DAWG

Taichi

ROH Tag Team Champion




Número de Mensagens

: 1670


Idade

: 18


Localização

: Brasil


Emprego/lazer

: NJPW fag


Data de inscrição :

24/01/2015





Tópicos similares
---
Permissão deste fórum:
Você
não pode
responder aos tópicos neste fórum