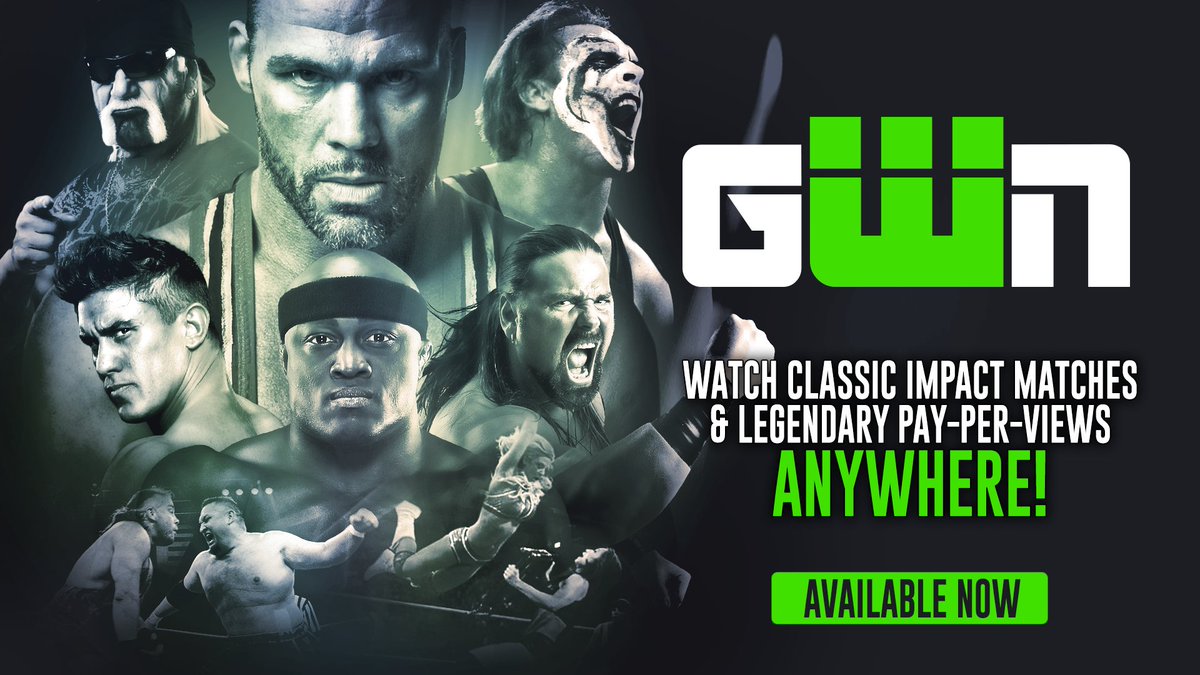 Anthem Sports & Entertainment Corp., the parent company of IMPACT Wrestling, announced today the launch of the Global Wrestling Network, a multi-platform digital service designed to give fans around the world instant 24-hour access to the extensive IMPACT Wrestling library, including every classic pay-per-view event, groundbreaking original series, reality shows and documentaries, exclusive events and cards from international promotions and partners, classic content from old territories, over 1,000 hours of original programming, plus the ability to purchase premium live pay-per-view events.

Global Wrestling Network will be available on all major over-the-top (OTT) platforms and devices, including web at GlobalWrestlingNetwork.com, iOS and Android, and coming soon to Roku, Xbox, Amazon Fire TV and Smart TVs. A premium subscription will be priced at just US$7.99 per month with a 30-day free trial for new members.

Members will also have free access to episodes of the weekly flagship show IMPACT!, as well as new weekly episodes of Xplosion and other original digital content featuring top professional wrestling stars, including Eli Drake, Bobby Lashley, EC3, Eddie Edwards, James Storm, the high-flying X-Division, the lovely and lethal Knockouts, including Sienna, Rosemary and Gail Kim, and talent from international partner promotions such as Johnny Impact, Naomichi Marufuji and El Hijo del Fantasma.

"Within just one year, we have made tremendous progress by re-branding and re-energizing the IMPACT Wrestling product," said Ed Nordholm, president of IMPACT Wrestling. "The launch of the Global Wrestling Network marks a significant milestone in the brand's digital growth and international expansion. Working with our partners, GWN will create, acquire and curate content from various promotions around the globe to become the leading provider of independent professional wrestling content in the world."

Programming from IMPACT Wrestling's 15-year library showcases household industry names such as Hulk Hogan, Ric Flair, Sting, Kurt Angle, Kevin Nash, Jeff Jarrett, AJ Styles, Samoa Joe, Bobby Roode and many more.
http://globalwrestlingnetwork.com
O serviço tem um free-trial de 30 dias, a partir daí são $7.99 por mês.

Renato

Administrador





Número de Mensagens

: 29398


Idade

: 26


Localização

: Somewhere over the rainbow


Emprego/lazer

: Estudante


Data de inscrição :

28/12/2008



Pá, a cena é: maior parte dos combates memoráveis da TNA estão no próprio youtube da TNA...

Moore

NXT Champion




Número de Mensagens

: 6463


Idade

: 24


Localização

: Montemor-o-Novo


Data de inscrição :

16/11/2012



Inteligente, como já disseram, o melhor da TNA é sua biblioteca mesmo, acho até que demoraram pra fazer isso. Não vou assinar a plataforma, mas torço para que dê certo.

TheGuruOf

WSW Superstar




Número de Mensagens

: 565


Idade

: 26


Localização

: São Paulo


Data de inscrição :

02/08/2016



---
Permissões neste fórum
Você
não pode
responder aos tópicos